Make our policies a reality. Help bring real freedom with optimism in the choices of British Columbians to Victoria.
Apply to be a candidate for liberty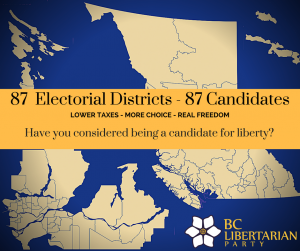 British Columbia needs MLAs who will advocate for lower taxation, smaller government, more choice and real freedom. The BC Libertarian Party ran the fourth most candidates of all parties in BC in 2017. For 2021, we are committed to running a candidate for liberty in every electoral district and achieving major party status. This Party is the new alternative in BC.
We cannot do this without British Columbians who volunteer to be candidates. We are assembling a team of candidates today for your freedom and rights are protected tomorrow. But we cannot do this alone. Liberty starts with you! If you have questions about the process of becoming a candidate, please direct your inquiries to public@libertarian.bc.ca. If you are willing to volunteer as a champion for choice and be a candidate, please fill out the application below.