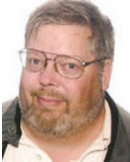 We're saddened to say goodbye to Rex Brocki, who was a veteran of the freedom movement, and a friend to many in the west coast libertarian community. After years of battling persistent illness, Rex was released from this struggle on Dec 24th. His beloved wife Barbara preceded him to the hereafter a couple years ago, and he is survived by his daughter Cori. 
Those of you who knew Rex knew he had a storied life. In his several different careers, his entrepreneurship, his non-profit causes, and his campaigns for elected office, Rex used his unique talents and voice to advocate for the principles he believed in, and bring greater freedom to any place he lived.
Rex had the gift of gab, and was a talented writer and storyteller. The bio he wrote for his 2010 US Congressional run is well worth reading for its humorous and lighthearted style: https://web.archive.org/web/20100720065709/http://www.rexbrocki.com/
Though Rex had no illusions about the uphill nature of the battle libertarians and constitutionalists face, instead of doom and gloom he chose to poke fun at the hypocrisy and incompetence of the establishment, leaving those who listened to him with hope that good sense would one day prevail.
Rex grew up in Los Angeles, where he started his first career as a voice actor while still in elementary school. He went on to study and work in broadcast journalism in his teens, though his habit of speaking truth to power (on the air) got him in hot water enough times that decided to focus instead on conveying his thoughts through the written word. 
The next stage of Rex's life found him in the military, where he served in the US Air Force from 1975 to 1981. The experience informed his political views, but not in the way one might think. As a pilot who also did aircraft repairs, and dealt with government procurement protocols to obtain needed parts, he discovered the incredible waste of tax dollars that happens inside the military-industrial complex, as he relates in this anecdote. 
When his service was done, he attended San Bernardino Valley University College, where he excelled academically, formed a Republican Student's League, and started his own business on the side. After graduating, he joined the police force, but became disillusioned with certain aspects of civil service much as he had with military service. He was self-employed thereafter, owning a restaurant in California for a time, then getting into the real estate business. When he moved to BC, he started the first cryptocurrency exchange in the province. 
As far as electoral politics goes, Rex got involved early, supporting Ronald Reagan's 1976 campaign. He went on to become part of the Tea Party movement, supporting Ron Paul's presidential campaigns. He ran for US Congress three times, notably in 2010 in Washington state's 4th district where he received nearly 10,000 votes in the primary, falling short of a win but beating out three other Republican contenders. 
After moving to Canada, he joined the federal Libertarian Party, and in 2015 had the second best performance of the 72 Libertarian candidates that ran in that election. He received 1,368 votes in Burnaby-New Westminster, which is impressive for a new guy in town, especially in a part of the province that usually votes for social democrats. He made great use of campaign slogans such as "No victim = No crime" and "Libertarians are the real liberals, and the real conservatives." He also spent little money on his campaign, and attributed his success to having hundreds (maybe thousands?) of conversations with regular people about the ways they felt their freedoms and opportunities threatened. Undaunted by his worsening health, he ran federally a second time in 2019.
We were pleased to have Rex join the BC Libertarian Party, where he ran as a candidate in New West in the 2017 provincial election. He lent his golden voice for the tagline of our radio ad, which you can hear here. He tirelessly promoted the Party on Twitter with his signature tongue-in-cheek critiques (like this one: "If Donald Trump and Doug Ford between them CURED CANCER, all the MSM would do is whine about how many oncologists would be losing their jobs!"), sat on the Party Executive Council, and helped his fellow Libertarian candidates with their campaigns. 
Rex also volunteered his time for other causes, including Free Geek Vancouver (a non-profit in east Vancouver that refurbishes computer equipment and teaches computer repair), where he sat on the board of directors for five years.
In all his political efforts, he was motivated by a moral duty to push back against the forces of tyranny, rather than a desire to be in the limelight or advance his own interests. In his 2010 campaign he wrote, "I don't want this job… but we desperately need to have somebody besides Ron Paul in Congress to teach the rest of those—hooligans—the meaning of 'Congress shall make no law…'" Rex was a huge asset to our organization, and a good friend to me and many others in our movement. He lived life fearlessly, using his abundance of wits and talent to pursue his many interests, live according to his deeply-held principles, and embrace the freedom he had, while doing his utmost to preserve this freedom for future generations to enjoy. He'll be dearly missed.
Clayton Welwood
President, BC Libertarian Party